Vera: (Vera van de Maginaris)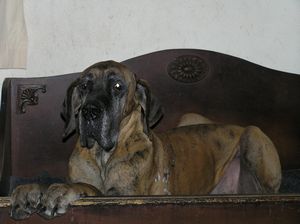 Vera was our first Great Dane, 10 months old when she came to use. Vera was the cause of our Great Dane virus. Vera was the mother of 10 puppies from our first litter in 2002. We kept one Puppy, a Fawn Male who we named Shendor. Here name was Vera van de Maginaris Daughter of Gigi von Machurius and Odin van de Lingestreek.
Vera lived together with Shendor, her Son. She was very kind Dane, good for people and other Danes. Only problem was that she was attacked four times by Jack Russells and lost here kindness for little Dogs. If she had the change she would ate them, here hate for small Dogs couldn't heal anymore. Vera died because of a Torsion at the age of 6 years. She really was a great Great Dane.