Shifra: ( Jente Shifra van de Maginaris )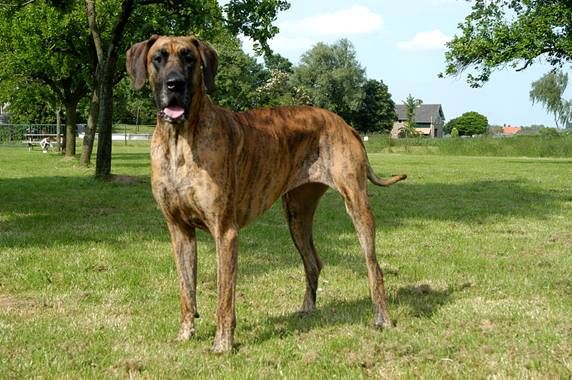 Shifra is a Brindle female. Shendor lost 6 kilos in weight and was down after Vera past away. Time was short and for us it was very hard to replace Vera by a other Dane. For our feeling it isn't possible to replace one Dog for another, but for Shendor this was the only option. We contacted the Breeder from Vera and he had puppy's. This in short how we got Shifra. Here parents are Daan vd Maginaris und Chèramie vd Maginaris.
Shifra is our rock, stabile and allways ready to cuddle. She is the Boss and playing with the other Dogs will only happen rarely. She has here own Football and it is not allowed to the other Danes to play with it. Although the other Danes do not allways except this and many times hunts for the Football were started. In most cases Shifra wins. All together, Shifra is very kind for all animals and people as long as they respect here need of rest.