Sharduul: ( Charles Hugo's Pride )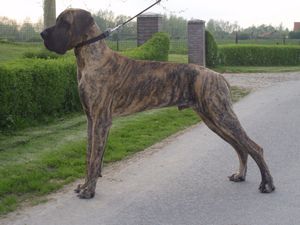 Sharduul was a Brindle Male. Unfortunally Sharduul died at age of one year. The veterinarian refused to reconnect infusion because Sharduul was in shock because of dehydration. The cause of his illness isn't clear and we will never know what it was. Sure is that the veterinarian refused to offer adequate help and Sharduul was doomed to die. This case is handled by Veterinarian Court. In the first verdict the veterinarian was guilty but he reopened the case. We have to wait for the new verdict.
Sharduul was a Big beautifull Dane. He made people laugh because he was a clown. He was kind for people and loved to play with the Cats, Beetle and Blazer. Blazer died a few months later.