Abintu Gesha was on show today. Jonge Doggendag ( Jung Greatdanes day ) from the Dutch DDVN ( Duitse Doggen vereniging Nederland ) .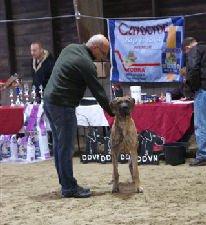 Attractive brindle bitch 7 months old. for here age very well developed. Shows itself with style.
Excellent breed-typical overall picture. Female head with good proportions, good stop, straight nose. Set high, well carried ears. Healthy, dark eye, adequate mask. Lips could be something more. Good, long, strong neck + panache. Smooth top and bottom lines. Well angulated front and hindquarters. Good legs + feet. Appropriate bone. Slightly tail low. Correct bite.
Excellent temperament. Is still very young, but in proper cadence.